My favorite thing about Hallmark Christmas movies is that they are just so cozy and wholesome. You're guaranteed to have it take place in a small town that is kind of rustic, super friendly, and full of the Christmas spirit!
When I saw the Rustic Metal Chairs, I immediately thought of a Hallmark Christmas movie. It might sound weird at first, but come on! You cannot look at these chairs and not tell me they aren't meant for a cozy little party at the Town Hall or even around the dinner table in one of these cheesy Christmas films.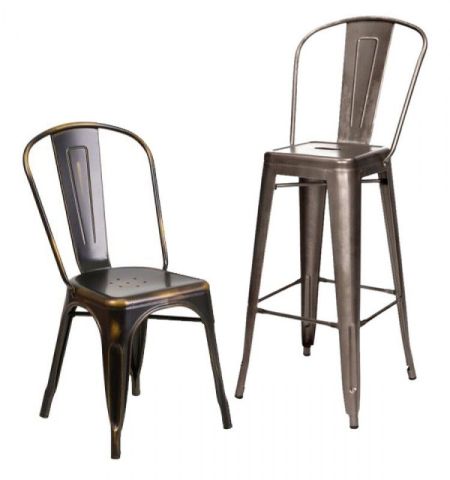 Perhaps you disagree, but I will stand by this until I die! Anyways, I think these would be perfect to put around a dinner table for Christmas to really add some "umph" to the cozy Christmas vibes this year.
They go along so well with any aesthetic, which is totally worth noting! They are perfect for a classy Christmas, one that really goes for the Rustic farmhouse, or even if you are more minimalist and want an industrial vibe. You can't go wrong with these bad boys, and they will totally last you a long time for all your needs.
Anyhow, back to our party… I think these don't even have to be limited to a Christmas dinner. These would work perfectly for any small business looking to do a festive event this year. Add a Christmas bow that goes with the rest of the décor and cheerio, here you go! They also come in a barstool variation that is suitable for your island or even a bar looking to take it to the next level without breaking the bank.
Do something a little differently this year, and get yourself some of these versatile Rustic Metal Chairs, that can fit any vibe… from a Hallmark-worthy Christmas party to a small business year-round.
*Cover Photo Courtesy of Pinterest