'Tis the season for weddings! It's June, the weather is good, and all those happy couples are ready to tie the knot. It really is no secret that June is the most popular month of the year to host a wedding! Anyways, with all these weddings coming up, there's a lot to consider with your decorations. The reception's decoration is just as important as the ceremony, and honestly, it might be a little bit harder to figure out what you want to do for the reception.
We all know that the tables are a big part of the reception. Especially if you plan on feeding a full 4-course meal at your wedding reception, a good table set up is a must. Your guests will be expecting something close (if not better) to a restaurant experience. So, let's talk about some ways you can use our Legacy Table to get an elegant and sophisticated feel to your wedding reception.
One of my favorite wedding trends right now is the big and long tablescapes that seem to never end! It feels very "family-style" dinner to me without actually lessening the whimsical wedding experience. It creates a sense of community between your guests since no one is really separated by several small tables. Our Legacy Table is perfect for lining several up in rows so that you can actually get this feel.
As pictured below, I love the idea of a cohesive tablecloth color that can tie all the tables together in a very seamless manner. Not to mention the beautiful florals placed atop the tables as well.
Photo Courtesy of The Knot
Since it is summer, the accessibility of florals is great so you can get a huge variety without having to get them specially imported. The use of greenery really adds summer flair without giving a super rustic feel. Pair it with a flower or candles in your wedding's color palette and you'll be good to go.
This adds continuity and flow to the overall design of your wedding. Opt for shorter floral decorations so that it is easier to keep a consistent height to all of the tablescape. This will also help lengthen the rest of the table and make it look very clean and put together. It allows the guests to not feel overcrowded by large arrangements and actually enjoy the reception and meal without feeling overwhelmed.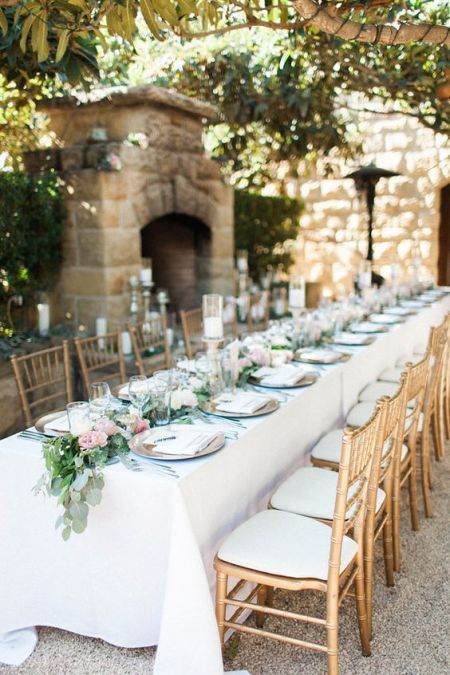 Photo Courtesy of Magnolia Rouge
If you feel like this is a direction you want to go in with your wedding reception, then the Legacy Table is definitely a perfect option for you. Give us a call today to see how we can make your special day even more perfect.