There are so many reasons to be excited for spring, not the least of which are all the celebrations in the springtime! Easter Sunday is almost here! (Click here for some great Easter-themed event decorations from the DIY home décor website WooHome)
Are you ready to celebrate the warmer weather by hosting your event outside in the spring sunshine? Because McCourt Manufacturing has everything you'll need to ensure your party is the event of the season!
Seating
When you're in the market for long-lasting outdoor furniture you need to keep two primary things in mind: easy to clean and weatherproof.
Check out one of the crowning achievements of our folding chair line: The Gala Series Chair! This chair is made of 100% weatherproof polypropylene resin, which is stain resistant (just wipe clean!) and UV protected to prevent fading from being outdoors. This lightweight design disguises heavy duty manufacturing, as it supports up to 1000 lbs. It also comes with a removable padded foam seat for maximum comfort!
Folding chairs are easy to transport and arrange to your liking!
McCourt folding and stacking chairs are expertly crafted with simple two-step locking mechanisms that make set-up and tear-down a breeze! The warmer spring weather provides the perfect opportunity to try out our weatherproof party equipment. You can be sure that these durable chairs require little maintenance and wouldn't look out of place in either an outdoor or indoor setting!
Tables
Folding tables are the easiest to maneuver at outdoor events. And just like with seating, easy to clean and weatherproof are important requirements for outdoor tables. However, the most important requirement is support. Especially when you're looking for a reliable buffet table, which is constantly going to be laden down with foodstuffs, drinks, and tableware.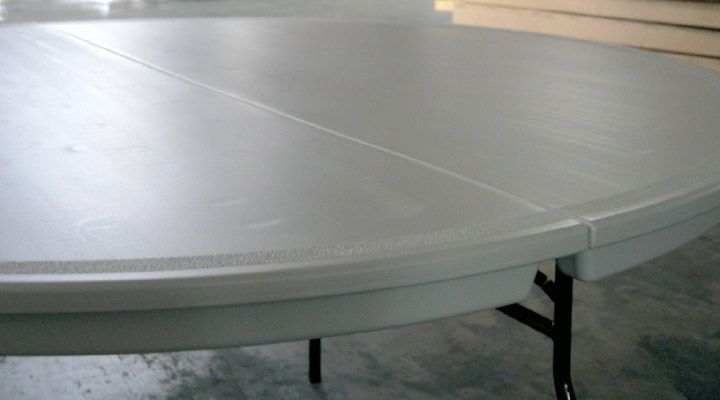 Our Commercialite Folding Tables are built on welded steel frames that can support up to 3500 lbs. They're super lightweight with a plastic top that's stain-resistant and easy to clean, which is ideal for outdoor events.
Dance Floor
What better way to celebrate spring festivities than with a little dancing? McCourt's OvationTM Portable Dance Floor is the perfect addition to outdoor events! Springtime wedding receptions, family reunions, music festivals – your guests will have a blast dancing on our premium wood vinyl flooring, which is scratch resistant and easy to clean! The dance floor is divvied up in 3'x3' panels that are easy to transport and reassemble to fit your ideal dance floor size.
The 3'x3' square floor panels provide the authentic look of a hardwood dance floor, but with the benefit of being much more lightweight. All the floor sections lock together securely and seamlessly with the heavy duty Cam-Lock system. The dance floor's backing has a layer of nonskid GatorBackTM coating, which provides traction and resists moisture to prevent slippage. Perfect for the outdoors!
~*~
Worried about the hassle of transportation? Not a problem! With McCourt's exclusive EVENTruxTM Dispatch Systems transporting event furniture outdoors has never been easier! To view our products, make sure to check out our website or call McCourt Manufacturing today at 479-783-2593 or 800-333-2687! Our friendly staff would love to answer any questions you might have!