Many churches of varying denominations have been making the move from rigid, wooden pews to seating that is more comfortable for their congregation.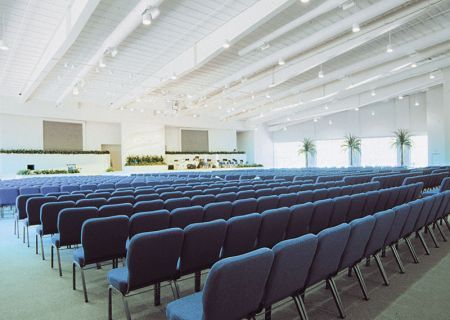 The large, new Christian churches were some of the first to introduce theatre-style seating taking the backache out of sitting for long periods of time.  The growth in comfortable seating in church has been attributed to the growth of the mega-churches. Many other churches have taken notice and added comfort seating in the sanctuary.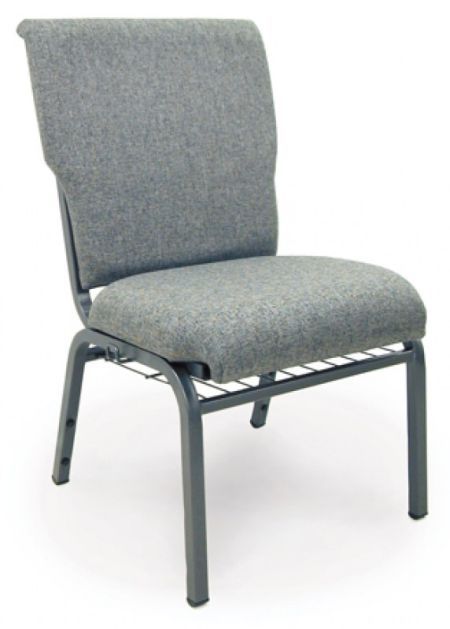 McCourt Manufacturing offers the perfect auditorium chair to be used in any area that comfortable seating is desired.  This chair is constructed for maximum strength and durability. The main frame is welded and constructed of 18-gauge steel square tubing and tested for over 1,500 pounds. The legs, back and carriage are 1" square mandrel bent tubing and braces are ¾" square tubes. The frame consists of six pieces that are fillet welded in at least two places each end. The injection-molded glides feature a half-circle profile to eliminate rocking and offer stability. The seat back platforms are 3/8" hardwood plywood to which the upholstery is stapled. The platforms are fastened to the frame with #10 screws in four places on the seat and four on the back. The chair back provides great lumbar support with a 2.75" thick cushion.
Additionally, if you need to clear the space, the chairs stack eight high with a 6 1/8" stack pitch. The chair back platform is specially designed to taper at the waist to allow stacking without upholstery wear. The construction of the chair prevents marring of the adjacent frames keeping your chairs looking their best at all times. The chair weighs approximately 18.6 pounds.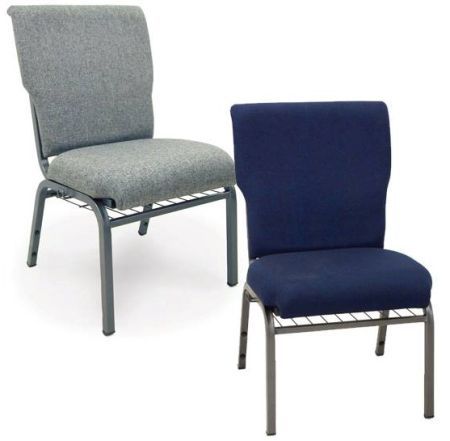 McCourt's standard colors offered are charcoal, navy blue, forest green, burgundy, grape and beige. The frame of silvervien powder coat finish pairs nicely with any of these colors while allowing for extreme commercial applications.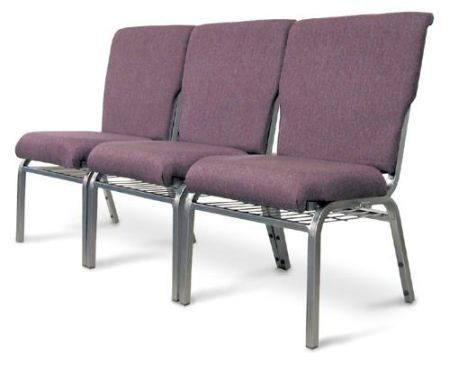 The ¼" ganging wire clips allow for seamless bench-like seating and rear access bookrack if you desire.  Note: The bookrack is not available for bariatric chairs. These chairs make a great addition to any assembly hall or church sanctuary. We also offer custom fabrics, a vinyl-option and an extra-wide 22" seat is available.
We are so sure you will be pleased with this chair that we offer a full three-year warranty against upholstery seam failures and frame damage due to materials and workmanship under normal use. Contact McCourt Manufacturing today at 479.783.2593 to order your new, comfortable auditorium chairs.