It seems as if every commercial lately has something to do with Christmas in July. You may be thinking that Christmas is a long ways off, but if you do the math, it is only five months away--that is approximately 20 weeks out. In all reality, now is the perfect time to book Christmas events. Companies are already thinking about Christmas parties and getting event locations and dates nailed down. Some companies may want to stick with the same thing they have done in years past, because it is easy to book and they know the venue staff will take care of their needs. You know, the old saying, "If it ain't broke, don't fix it." This is all well and good, if you are that venue, but what if you are not. How do you convince the company to give your venue a try this year?
Photo by chuttersnap on Unsplash
According to a blog written by Eventbrite, you will need to go back to Marketing 101 before promoting your venue, define who you are trying to attract. Your venue's audiences can be narrowed to two distinct audiences:
The clientele your venue attracts, and
The people who book event spaces.
The first one can be defined as the people who already walk through the doors of your event, but the second one has more to do with the kinds of events your customers might attend. Think about the existing features of your space. Are you a distillery and known for your craft beer? Are you a more traditional, open-space type venue? Capitalize on those features and sell them to your audience.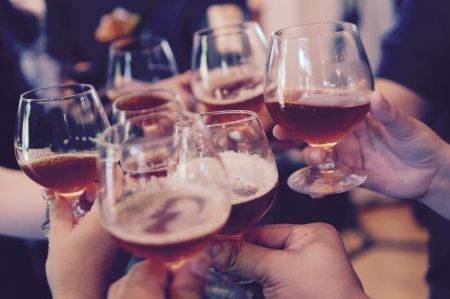 Photo by Yutacar on Unsplash
Eventbrite suggests, "selling the sizzle, not the steak." Sell the experience that your venue can offer. What does your venue offer besides square footage? Offering additional items like table and chair options, friendly-staff, table linens and the like will help sell your venue as well. The easier you make it for company party planners, the more likely they are to book with you.
Update your website and social media with pictures and descriptions of these things.
Photo by STIL on Unsplash
Develop a fact sheet with your extras.
Additionally, offering great customer service will put your event space above the ordinary. Make the entire process from the beginning to the final clean up smooth and easy for company event planners and you are sure to have repeat business year after year. When you purchase your event tables and chairs from McCourt Manufacturing, that's what you will get from them in addition to reliable, industry-proven products. McCourt Manufacturing is ready and available to help you put your venue on top.