Are you looking for easily portable event furniture? McCourt Manufacturing has an entire lineup of products specially crafted to make it easier to move, set-up, tear-down, and store your chairs and tables!
Folding and Stacking Chairs
McCourt folding and stacking chairs are expertly crafted with built-in features that provide a lot of flexibility with transport and storage.
Our folding chairs make set-up and tear-down a simple two-step process! Like with our Econolite® Folding Chair, which has legs that easily snap into and out of specially placed groves that ensure maximum sturdiness and support.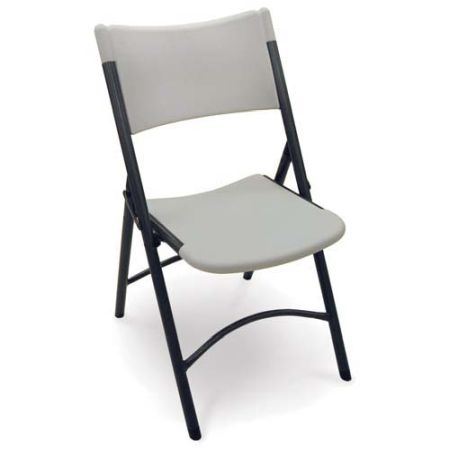 McCourt's Econolite® Folding Chair
Our exclusive stacking chairs were designed with the maximum amount of storage efficiency in mind! No space is wasted with our custom interlocking features that stabilize the stacking chairs up to 10 high.
McCourt folding and stacking chairs are long-lasting and virtually maintenance free! Our lightweight aluminum construction resists rusting and corrosion, ensuring years of faithful service.
Folding Tables
If you're looking for a reliable table for events and functions, our folding tables are just the thing for you! All of our tables are American Made and built on welded steel frames. Our welding practices are made up of top notch techniques we've learned from over 30 years of experience in the manufacturing business.
Our industrial strength folding tables are built to last! The folding legs are constructed with detent leg locks that automatically secure in place when in a fully closed or a fully open position. When closed, the folding legs are tucked tight under the table top making maneuvering a breeze! Storing them is as easy as turning them onto their side and sliding or stacking them along each other. Folding tables are ideal for those with minimal storage spaces!
Portable Dance Floor
It's the season of dancing! Spring has always been a time for celebration. And what better way to celebrate than to get festive on the dance floor? McCourt's OvationTM Portable Dance Floor is assembled in 3'x3' sections that are easily assembled to fit your ideal dance floor size. It's the perfect addition to any indoor or outdoor event!
The 3'x3' floor sections are easy to handle and even easier to transport! All the floor sections fasten together securely and seamlessly with the heavy duty Cam-Lock system. Our premium wood vinyl flooring provides the authentic look of hardwood, with a surface that's scratch resistant and easier to clean!
EVENTruxTM Dispatch Systems
Worried about the hassle of transportation? Not a problem! McCourt's EVENTruxTM Dispatch Systems make moving and storing all your chairs and tables easier than ever!
Our EVENTruxTM Dispatch Systems were created for long-lasting customer service. Their sturdy frames and large wheels (excellent for maneuvering) are ideal for moving large amounts of event equipment frequently.
EVENTruxTM Dispatch Systems help you move more and do it faster than ever before! Don't sacrifice variety in your event furniture just because you don't have the storage space! Click here to see the EVENTruxTM Specifications and learn just how many products our hand trucks can hold in the smallest amount of space!
~*~
Call McCourt Manufacturing today at 479-783-2593 or 800-333-2687 and learn what our products can do for you!