Details

Written by

Carly Darling - Crystal Cordoba
Events don't stop because the weather heats up. In fact, summer is the time when concerts, weddings, and festivals are in full swing. The summer months can be brutal on outdoor furniture: intense sunlight fades colors, and heat after the cold makes many plastics brittle. McCourt products offer a solution that improves the longevity of your furniture.
Charles McCourt knew the difference between a smart formula and one that would break down over time. During his time as a chemical engineer, he learned the skills necessary to meet the needs of manufacturing durable products for the rental industry. He designed a lasting product, one made from a formula that resists breaking down over time. Made from the plastic polypropylene, McCourt tables and chairs last longer than many of the other outdoor options. Not only is this special plastic easily transported due to its lightweight property, but it is durable throughout the seasons.
Polypropylene is engineered to withstand -- withstand weight, withstand cold, withstand heat, withstand the elements. This makes it the perfect material for products sold by McCourt manufacturing. No plastic is perfect, but McCourt treats its polypropylene products in order to make sure their tables and chairs don't experience UV degradation -- making their use in these hot summer months.
A great and popular universal product that Charles McCourt engineered with propylene is the Commercialite® Table, able to withstand vast amounts of sunlight without fading. The table is also great for outdoor events because of its easy-to-clean surface and timeless look that goes good with or without a table cover.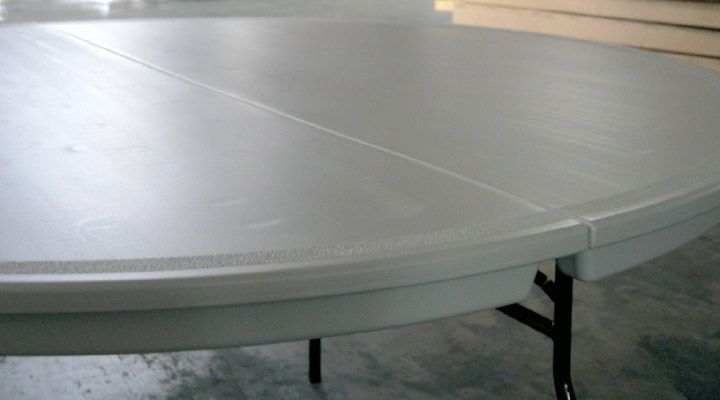 Another great polypropylene product is our Econolite® Plastic Folding Chairs. Perfect for outdoor events, these chairs impress guests with their comfort impress you with their durability and cleanliness. They are also impact resistant, so there are no worries when it comes to rowdy kids or clumsy guests.
Now is the time of the year when the sun is most damaging, so call McCourt Manufacturing today at 479-783-2593 or 800-333-2687 to learn more about our summer-proof products or to order yours today! And don't forget to keep up with our Facebook page for regular updates on everything McCourt has to offer.