Parties and events take careful planning for success. Caterers, sound, tech, invites, music, all are aspects of an event and take time to plan and coordinate. McCourt designs products to help take the stress out of the planning. Our products are easy to assemble and easy to store. If you are looking to invest for your venue, or needing to purchase for a special party of event, we definitely have it covered.
Need tables? McCourt carries several lines of tables, all of which can be stacked and save space until the next shindig. If you have eight or more tables, the Party Pack™ serves as a practical option.
Each pack houses the parts for an easily assembled product.
Each Party Pack™ includes:
• Party Cart
• 8 - 30" Columns Options:
• 8 - 42" Columns • Adjustable columns
• 8 - Pedestal Bases • Aluminum SuperEdge
• 8 - 30" or 36" Dia. Pedestal Tops • Laminate table top
If your company is celebrating, what is a celebration without dancing? McCourt carries unique and gorgeous laminate floor tiles that fit together to make the perfect dance floor! Choose from over six different colors: Kensington Maple, Wild Cherry, Boardwalk Oak, Asian Night, Green Tigris, Windswept Bronze, Sterling Ash, and the exclusive Black and White. Any of these colors can fit numerous decor options. The design of the floor is simple enough for just one person to put together and the result will definitely impress. This lovely floor not only looks fabulous, but is for both indoor and outdoor use. View the video below of our portable dance floor: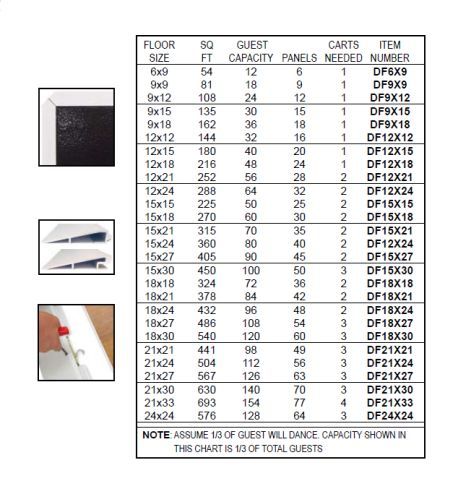 This floor is sure to impress and delight customers and guests. The floor is safe, with a sloped perimeter, and the pieces all fit seamlessly together because of the Cam-Lock system. Your guests will glide across the laminate floor, enjoying the event and the music!
Be sure to check our other products out, but we have a special category just for events; you can read the specifics on all things party and McCourt. McCourt products are designed to hold up under weather, wear, and are easy to set up and take down. If you have other questions about what McCourt provides, look through the catalogue, browse online, or call us: 800-333-2687. We provide quotes, too! Email us at This email address is being protected from spambots. You need JavaScript enabled to view it..