Finding the right kind of chairs to stock your business with can be a challenge. Especially when you're buying chairs for public use. The main issue seems to be finding that perfect balance between cost and quality when it comes to outfitting your reception areas.
Reception Seating
Furniture for a reception area can be a tricky thing to shop for. Reception chairs are set out in public areas and should be bought with public preferences in mind. Waiting rooms, guest areas, or lobbies are often the first thing visitors have contact with in a business or institution. The furniture for these areas must be chosen carefully in order to make the best first impression. 
You can never go wrong with neutral colors!
When shopping around for reception furniture it's important to keep two things in mind: comfort and aesthetic.
Comfort
Well-crafted chairs that provide back support can generate a welcoming atmosphere. The main thing to keep in mind when choosing a reception chair has everything to do with comfort:
·         Upholstery and Padding
Uncomfortable seating can actually make lengthy waits seem twice as long, which isn't conducive to happy clients. Take the length of the average wait time into account when choosing the kind of padding for your chairs.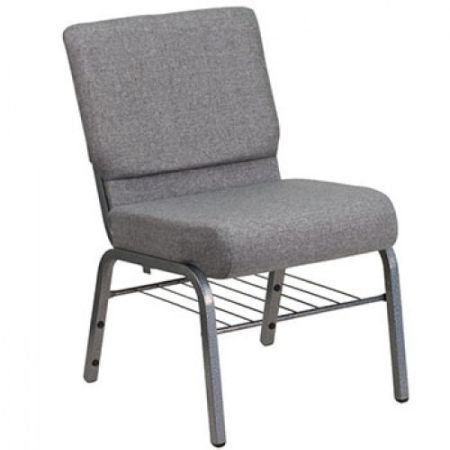 Check out McCourt Manufacturing's Auditorium Chair and their 15 different color options.
There are many types of upholstery for seating, such as vinyl and custom fabrics. Chairs with durable, textured fabric and wide seating are very popular for reception areas.
Aesthetic
An appealing design can go a long way to making a good first impression. Follow these simple rules when choosing your chair aesthetic:
1.      Design is Important
The quality of the chairs in any given reception area can set the tone for the overall office space. That's why many furniture magazines advise professional businesses to stock their waiting rooms with sleek modern designs. However, those models tend to run more towards fanciful than functional. Usually at double the price.
Your best bet for a quality work at a bargain price would be Padded Metal Frame Chairs. They're built to last and they typically have a range of upholstery options with stain resistant fabric. They look nice and they're comfortable to sit in! Honestly, what's not to like?
2.      The Simpler, The Better
When it comes to providing seating for the public, unique and quirky is not the way to go. Desperately trying figure out how to just sit in a chair in front of a room full of people is no one's idea of a fun time. For the most part, people simply expect a place to wait until their business is seen to. Remember to buy with visitor preference in mind!
3.      Choose Colors Carefully
Choosing a color scheme is actually fairly easy. A quick Google search will tell you what colors compliment your walls and décor. But what a lot of people don't know, is that certain colors can actually affect your visitor's mood! For more information on color psychology read this article in Forbes Magazine online. 
Remember to always make sure you're reception area has enough room for your seating plan! Check out McCourt Manufacturing's website for precise dimensions on all our products!